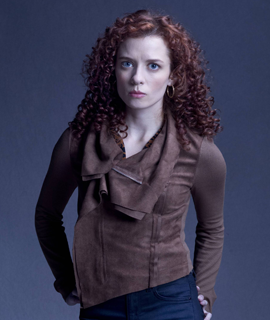 Freddie Lounds
---
| | |
| --- | --- |
| Status | Alive, presumed dead |
---
| | |
| --- | --- |
| Occupation | Tabloid blogger |
Appearances
Gallery (2)
Fredricka Lounds, also known as Freddie, is a tabloid blogger and aspiring journalist who takes interest in Will Graham and the FBI.
Biography
[
]
Freddie Lounds is a tabloid blogger employed by the tabloid news website, TattleCrime.com. She is best known for sneaking onto federal crime scenes, leaking exclusive photos & information about various cases. This behavior puts her at odds with the members of the B.A.U., and when she leaks information on Will Graham in an article, sours her already tense relationship with law enforcement.
Dr. Hannibal Lecter is shown to be an avid reader of TattleCrime.com, especially Ms. Lounds' articles.
She assists the F.B.I. in a case involving the Chesapeake Ripper by falsly confirming on TattleCrime that Dr. Gideon was the infamous serial murderer.
Trivia
[
]
In the Red Dragon novel, (male) Freddy Lounds was still alive when set on fire in the wheelchair, but he died later while in the hospital with an airway in his mouth.
Freddie Lounds appeared in the 2002 film Red Dragon under the name Freddy Lounds, and was portrayed by Philip Seymour Hoffman. The version of Lounds is true to Thomas Harris' novel.
 Resources
[
]