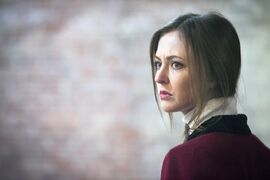 Margot Verger
| | |
| --- | --- |
| Portrayed by | Katherine Isabelle |
---
---
Appearances
Appearance
Tome-Wan

Ko no Mono Naka Choko Shiizakana

Su-Zakana
Gallery (0)
Biography
[
]
Margot Verger is the sister of Mason Verger, the heir of the Verger meat packing company. She has a complicated relationship with her brother in which she even attempted to kill him. Her brother is a frequent abuser of her sexually and emotionally. She seeks the help of Hannibal as her therapist. Margot is an avid horseback rider.
Relationship with Will Graham
[
]
Margot's sexual preference is for women. But in the episode "Naka-choko," Margot has relations with Will in order to possibly have a male child which will be heir to the Verger Meat Packing Company if she does indeed kill her brother. This would free her of her brother's control and allow her to inherit the company's fortune. She gets pregnant from this encounter and ends her relationship with Will as she "gets what she needed." Mason eventually finds out of her plan and pays a person to cause a car accident with her and then gives her a total hysterectomy while she is recovering from her wounds. Will Graham responds to this by beating and threatening Mason at the meat packing facility. He then convinces Mason that Hannibal was the one who gave Margot the plan to have a baby in the first place.
Current Status
[
]
The abortion leaves internal damage and visible scars all over Margot's body, causing her to give up on her plan. Hannibal is then kidnapped by Mason and is hung up to be fed to Mason's pigs at the meat factory. Will cuts Hannibal down from his noose and passes out from a blow to the head from Mason's hired hand. When will wakes up, both Hannibal and Mason are gone. Hannibal drugs Mason causing him to hallucinate and cut off pieces of his own face and feed them to Will's dogs. Hannibal then breaks Mason's neck and puts him in intensive care for the rest of his life. Margot is now free of her brother's control and decides to "take care of her brother as he did for her."