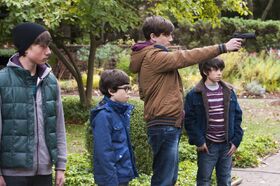 Oeuf
Cast
Chronology
Gallery (0)
"Œuf" is the fourth episode of Season 1, and overall the fourth produced hour of Hannibal. It was originally supposed to air on April 25, 2013, though it was pulled off the schedule due to the 2013 Boston Marathon bombings. It was later released through iTunes.
Plot
[
]
A string of family murders takes place and Will determines they were conducted by each of the families' missing children, who were abducted and brainwashed into killing their old families for their sinister "new family." Against Alana's recommendation, Hannibal checks Abigail out of the hospital for some frightening psychiatric practices that ultimately align her loyalty with him.
---
Trivia
[
]
This episode of Hannibal was pulled from the schedules in the US at the request of show runner Bryan Fuller, because the story involved violence against children which could have offended people after the tragedy of the Sandy Hook shooting. Instead of Œuf, NBC aired Coquilles (the next episode). Fuller edited Œuf, and the shortened episode was made into a series of five webisodes that were posted on the internet. This also affected broadcasts in Canada, but in most other countries the unexpurgated version of Œuf was allowed to air normally. The full episode was also included on DVD and BluRay releases.
Episodes of Hannibal's first season are named after dishes in French cuisine. The fourth episode' is titled "Œuf." The word 'œuf,' is French for 'egg.'  The first letter of the word, 'œ,' is a ligature of an 'o' and an 'e'.  There were many instances (including the listing for the episode on Amazon Instant Video) in which the title was misspelled as "Ceuf."